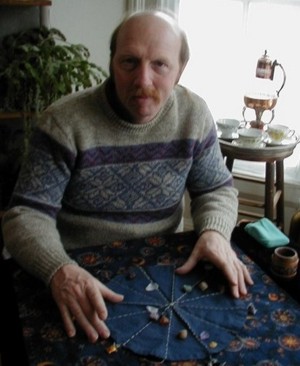 Hello and welcome. My name is Harv and I have been a professional reader for nearly 20 years. The photo on the left is of me reading astrological crystals and was taken by my friend Emile when I was reading at his new age store Knight People located in Middletown CT. I read locally at new age fairs, psychic parties and special events. I have several places locally in Middletown CT. that we can meet if you would like an in person reading. Please feel free to contact me if you would like me to read or lecture at your function or special event. I also offer readings over the Phone that are affordable. I had sold phone readings on eBay since 2005 until they changed their policy and no longer allowed reading to be sold on their site. I currently also sell readings on Etsy.com if you prefer to use a third party to purchase a phone reading from me. I lecture on a variety of subjects that are available on request. To see and purchase the different types of readings that are available, please click the buttons below.
Thank you for visiting my site.
Notice: You and I are free to believe as we choose, but for legal purposes.... You must be over 18 years old to recieve a reading or to participate in the workshops. Readings and workshops are held for Entertainment purposes only.